Welcome to the world of innovative environment monitoring
Celsicom AB is a Swedish based company that develops and manufactures professional hardware, software and cloud services in the area of environment monitoring.

With our multi purpose Celsicom Connect system you can monitor and log temperature, humidity, CO2, radon, pressure, energy consumption and much more. Just log on to our web based cloud service using a standard web browser, and you're in full control - where ever you are in the world!

We are currently working with the translation of the entire website, but in the meantime please download our product information folder in English.

Free demo account available at celsiview.se.
We are currently looking for new distributors in Europe. Please contact me if you're interested in developing Celsicom in your local market.
Have a great day!

Stefan Carlsson
CEO • Celsicom AB
Celsicom promotion videos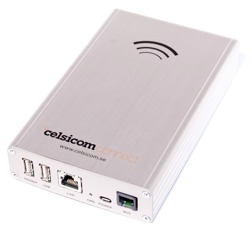 This is our base station CC202, the main component in our Celsicom Connect system. It collects data from both wired and wireless sensors.

The CC202 connects to the internet via a standard LAN connection, or with a USB 2G/3G modem.

The data is monitored using our web based cloud service Celsiview.